A clever IoT and Data Driven Business Model
How a home automation company went from start up to world class
Published on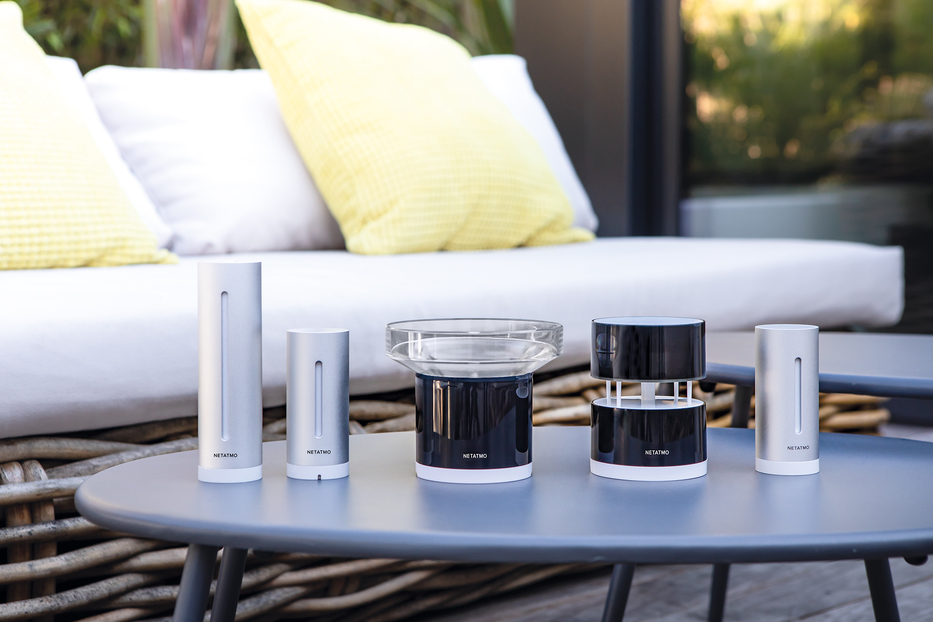 Netatmo weather station with accessories.
Photos: Masaki Okumura, Marion Leflour and Fred Raynaud
Arguably anyone knows the Internet of Things (IoT) can transform your business model and that "data is value". Read on to discover one of the smartest Internet of Things and Data Driven Business Models.
You will discover that IoT is not all about predictive maintenance, the importance of setting a clear strategy before connecting your products, and which blocks of your business model you should focus on when thinking about connecting your products.
Netatmo - a French company founded in 2011 by Fred Potter and Jean-Pierre Dumolard - is all about home automation. Here is how their mission statement goes by:
"We develop groundbreaking, intuitive and beautifully-designed connected consumer electronics. Truly smart, our innovative products provide a seamless experience that helps users create a safer, healthier and more comfortable home.
We carefully design the mechanics, electronics and embedded software of all our products to the highest standards. Our mobile and web applications are designed to be simple to operate, yet deliver a rich user experience."
To date, the company employs nearly 225 persons of which 130 are engineers and generates annual sales around €45 million. Netatmo manages 1.3 million active connected products. Netatmo announced late in 2018 that they will be acquired by Legrand group a company in the electrical and digital building infrastructure business, present in 90 countries selling more than €5.5 billion.
Here I portray the business model of their Smart Home Weather Station.
Netatmo weather station: internal and external modules.
Photos: Masaki Okumura, Marion Leflour and Fred Raynaud
Now, let's get into Netatmo's cunning business model!
Customer segments and Value proposition
Netatmo's weather station is a consumer product. It's a product that suits a person like me, and you. With Netatmo's weather station we can monitor our home's temperature and air quality as well as outdoor.
Both units, home and outdoor, are designed by Philippe Starck and are minimalistic, easy to use, beautiful and they fit in a home environment. The weather stations measure temperature, humidity, CO2, air quality, sound level and barometric pressure. The stations send the data to the cloud, and we can view the data in real time from our smartphone and computer.
It is at this point that the connected product creates value for other customer segments. First off: the weather forecast companies. Those companies can benefit from high frequency ultra local weather data for meeting the needs of special customers. Netatmo receives data from weather stations globally. Looking at their weather map online, you can find weather stations from the Svalbard Islands to Cape Town. Netatmo has built one of the largest weather station network on the planet.
Channels
Take the case of Mary who buys the weather station online or in a consumer electronics store, yet the connected product enables new interesting channels. To use the weather station, Mary, needs to register to Netatmo's platform to access her weather and home data from her computer or smartphone. When Mary opens up her app on the smartphone, she notices a red dot on the menu. It's signaling that something is happening in the news section, such as a smart smoke sensor advertisement or a voucher for Father's Day.
Moreover, the connected product creates a channel that can be offered to Netatmo partners and enables them to deliver value to Mary. For instance, the weather station is used by Velux - the notorious electric shades market leader - to drive their roof windows. Using the data coming from the CO2, air quality, humidity and temperature sensors the roof windows can change the air and shade at home.
Customer Relationship
For the customer, connecting the product, also represent a new type of relationship, compared to a non connected weather station. The connection enables direct and fast customer support and access to manuals, FAQ and videos that help the user to get the most out of his product and receive quick assistance to fix problems.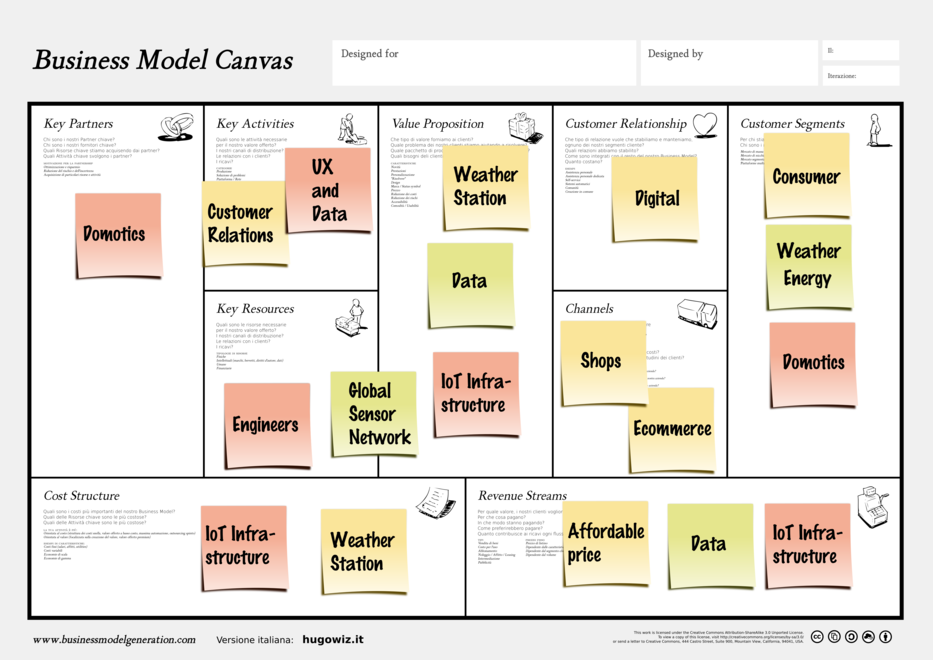 Netatmo weather station Business Model
Revenue Streams
The weather station is sold in consumer electronics stores and through the dedicated online store, generating the usual product related revenue streams. Further, with connecting the product, new revenue opportunities arise. The first stream is generated by selling the weather data, and the second one is generated providing the cloud infrastructure to partners and customers. So that the business benefits both from transaction revenues, from selling the products and recurring revenues from selling data and infrastructure.
This also helps selling the weather station at an affordable price of €170 which in turn contributes to the network with more weather stations in a positively reinforcing circle.
Key Resources
Now the installed base and the actively connected products, represent a tangible asset that creates value. The company can take advantage of the direct channel and relationship with the customer to cross-sell and up-sell. On the other side, the size of the installed base is linked directly to the value of the data and to the value it can provide to partners.
Another key asset is the infrastructure and its API which enable many opportunities for creating value for partners and enterprise customers.
Key Activities
Owing to the connection, taking care of the relationship with the customer, designing the user experience and data skills are very important. Netatmo has a real time feedback about how and when the user interacts with the product, enabling the fine-tuning and improvement of the product and the user experience. Thus, greatly reducing the risk of failure in introducing new features and creating new products. Data collection, storage, analysis, synthesis and display are also crucial for delivering value to all the customer segments.
Key Partners
The connected product is a real "foot in the door" for mutually fruitful partnerships with other home automation companies. In the Channels section you could see how it plays an important part of the partnership with Velux, which promotes sales of the weather station along with the motorized roof windows.
It is worth noting that Netatmo has a high ratio of engineers to employees. A strategic decision to own the technical knowledge to ensure the long term sustainability and growth of this business model.
Cost Structure
Here we will find additional costs compared to a plain product cost structure. This is the reason why you need to have a clear strategy in mind about how, by connecting your product, you will create value for your existing customer segments and better more how you will create new customer segments.
On the bright side, you can look at Netatmo from a different perspective. Imagine it was a weather data company. Its business model would be more than clever.
Take a conventional weather company who would have the ambition of creating a worldwide network of weather sensors. This company would have to think about building and deploying a great number of weather sensors and then connect them and manage the infrastructure. A costly upfront investment. The financial architecture would have to account for covering the investment and the operation costs through recurring revenues generated by selling the data. A risky business.
Netatmo, on the contrary, relies on the weather enthusiasts for buying the sensors, thus financing the deployment, while also cashing recurring revenues for the data; as if Google sold the cars for mapping the world's routes for Google Maps, instead of buying them and paying drivers to drive the cars through the streets of the planet.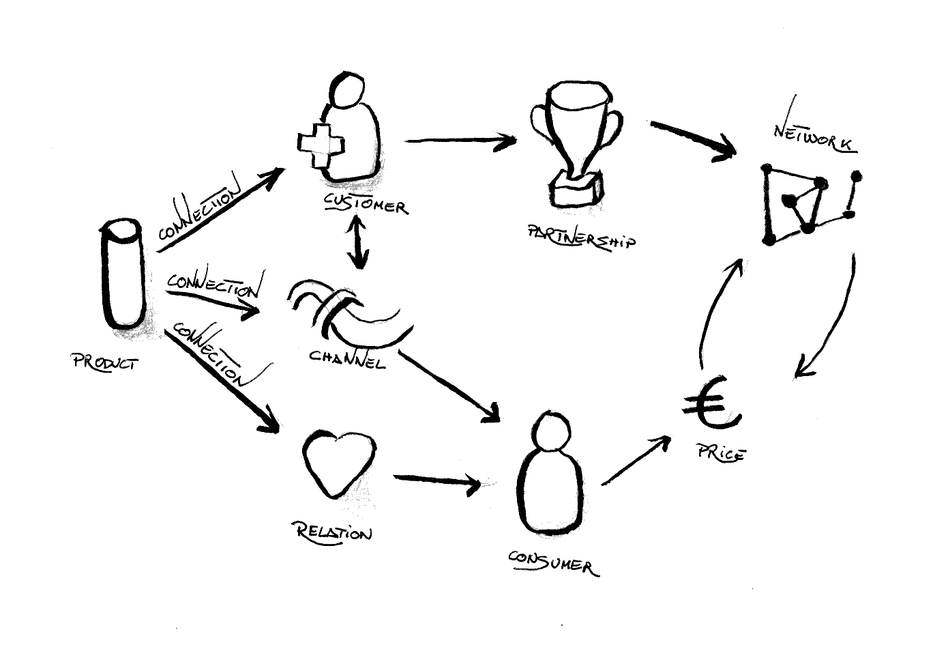 Netatmo weather station connection strategy
Conclusion
The Netatmo Smart Home Weather Station's Business Model cleverly exploit the opportunities of connecting the product to create a valuable network of weather sensors. First it could enrich its customer segments portfolio beyond the weather enthusiast and reach weather forecasters, energy companies, home appliance companies … Then you have seen how it could put to good use the new channel created by the connection for up selling, cross selling, and providing a channel for their partners and enterprise customers. Furthermore, the connection represents a valuable way to create a fast and satisfying customer relation. Then how Netatmo enjoys a variety of revenue streams with different properties in terms of volume and timing. In the key resources block they have created new valuable assets and in the key activities they need special competences. In the key partners block they could create new win win deals and they limited outsourcing for owning valuable knowledge. Last in the cost structure you could see how clever their business model is.
So here are a few key points to bring home:
Key Points

The internet of things (IoT) is not only useful for predictive maintenance, but assists in exploring new business opportunities.
A clever IoT business model enables a data driven business model for cashing recurrent revenues.
Before connecting a product, it's wise to have a clear business model; it's useful to offset the extra costs. Have a strategy before connecting a product.
When connecting a product look for opportunities of creating new channels and building close and effective customer relationships.
Look out for opportunities for building mutually fruitful partnerships enabled by the infrastructure.